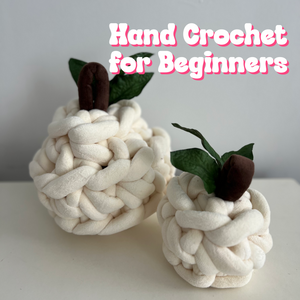 Hand Crochet for Beginners | Fall Pumpkins | October 18 @ Eastern Iowa Arts Academy
***Registration and tickets are being handled on their website, so please click here to register.
Looking for a fun and simple fall craft? This class is for you! I have partnered with Easter Iowa Arts Academy, and will be teaching in their studio.
What will you do in this class?
In this class you will learn the basic fundamentals of hand crochet and make a pumpkin.
What will you learn in this class?
 - About yarn used in hand crochet, the differences between them, and where to find it
- How to choose the right yarn for your project 
- How to begin a project with a magic circle
- How to use single crochet in a project
- How to finish and secure your project
- How to make a mini pumpkin*
*The mini pumpkin will be about 5" in diameter. If you upgrade to a regular size pumpkin, it will be about 8" in diameter, and there will be an additional charge.
Who is this class for?
This class is for beginners and seasoned crafters alike. Hand crochet (with big yarn and your hands) is very different from traditional crochet (with small yarn and hooks), so no prior crochet experience is necessary.
Location:
Eastern Iowa Arts Academy Studio | 1847 E Ave. NE, Cedar Rapids, IA, 52402
Date & Time:
Wednesday, October 18
6:00-8:00pm
}