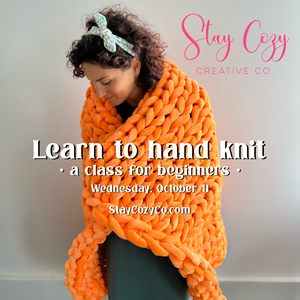 Learn to Hand Knit | a class for beginners | October 11
Join me on Wednesday, October 11 for an evening full of creativity and connection. I have fallen in love with the art of hand knitting, and can't wait to share with you my tips and tricks. This class will empower you to start or continue on your own creative journey.
Questions you'll have answers to after this class:
- What is hand knitting?
- What materials do I need?
- What kind of yarn do I use? And where can I find it?
- How do I connect multiple skeins of yarn?
- What kind of projects can I make?
- How do I start a project?
- How do I complete a project?
What is included with the class fee:
- In-person teaching and instruction by Jessica, owner of Stay Cozy with 4+ years hand knitting experience
- Hands-on learning for making a blanket
- 8 skeins of tube yarn (you will choose your color and yarn style the night of the class so you can see the colors and feel the textures in person)
What you'll go home with:
- The blanket you make and complete in class!
- The tools and knowledge to continue hand knitting as a hobby
- Answers to all of the questions from the top of this page
- New connections with others who are interested in staying creative in our community
When:
Wednesday, October 11 from 6-9pm
Location:
Stay Cozy studio (aka apartment above Dash Coffee)
120 3rd Ave SW Ste 3, Cedar Rapids, IA 52402
Questions?
Please reach out to me at anytime with questions! I can be reached at jessica@staycozyco.com.
}