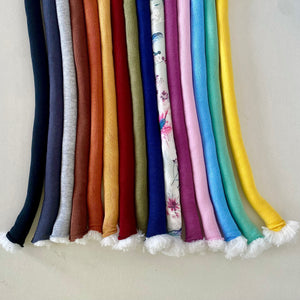 Yarn Samples, Color Samples
This listing is for those are are working on a project and want to make sure they are getting just the right color.
Especially for larger projects, I can be important to know the exact shade of color and how it will look in your home or particular lighting.
We totally get it. If you would like to receive samples of specific yarn colors, simply add this listing to your cart and type in the specific colors you want in the "notes" section before you checkout. Please make sure to specify they type of yarn (ie cotton tube, velvet tube, chenille) and color by the name listed on the website to ensure you receive the color you're expecting.
Approximate sample size: 3" long strand of yarn
If you have any questions or need a larger sample, please email jessica@staycozyco.com to chat.
}